A tax invoice template is a commercial document that will be required by any business to claim an input tax credit on creditable possession. A tax invoice is a compulsion to pay which will contain information that doesn't appear in a normal invoice. A tax invoice will contain word "TAX INVOICE", trading name of supplier, tax issuing date, brief description of goods supplied, quantity or volume of supplied goods etc. Here we present a tax invoice template for your kind assistance. You can use this tax invoice template to use an invoice for your business or use it by making necessary changes in its contents. Here is a preview of our tax invoice template.
The best way to use this tax invoice template is to view its preview and then look upon your requirements. Once you are clear about your needs and requirements about this template, you can click on download button which is provided underneath of this tax invoice template's image. Once file is downloaded, you can recheck it base on new changes which you are willing to insert. These changes can be vital and make effect on the outlook of this template. Therefore, make sure these changes are inevitable and a "must to do" thing. Once your changes are completed, you can use this template and can click on print button. It is advisable to check print setting before taking print.
Click on the download button to use this tax invoice template absolutely free.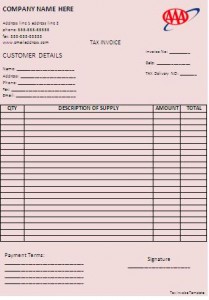 Download: Tax Invoice Template