A timetable template will be very helpful to you in performing all your tasks or preparing for a day like examination. Timetable can be prepared in tabular form for a day or a week containing list of the tasks to be performed in a specific order along with the time available for performing each task. All activities that are urgent or most important to perform will be placed at top of the timetable. Here we provide you a timetable template that is fully and easy to customize. We have prepared this timetable template in MS Word 2007. You can use this timetable template to schedule your daily personal routine or a business day. Here is a preview of this timetable template.
The best way to use this timetable template is to view its preview and then look upon your requirements. Once you are clear about your needs and requirements about this template, you can click on download button which is provided underneath of this timetable template's image. Once file is downloaded, you can recheck it base on new changes which you are willing to insert. These changes can be vital and make effect on the outlook of this template. Therefore, make sure these changes are inevitable and a "must to do" thing. Once your changes are completed, you can use this template and can click on print button. It is advisable to check print setting before taking print.
Click on the download button to use this template absolutely free.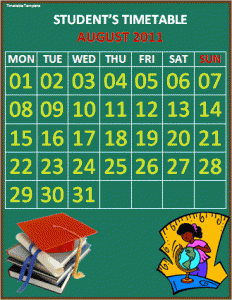 Download: Timetable Template